Dear Sir Oliver,
I am writing to launch the engagement process for Govia Thameslink Railway's (GTR's) £15m Passenger Benefit Fund, which aims to provide tangible improvements for passengers on the GTR network. The fund was established following the disruption experienced by passengers during the implementation of the May 2018 timetable.
I fully acknowledge the scale of last year's disruption for passengers. Performance on GTR has improved in recent months, and we have seen year-on-year improvements in every month since August last year. The December 2018 timetable was delivered as planned, bringing 200 extra services every weekday. In next month's timetable change, GTR will increase the number of services on weekends and will introduce an extra service each hour on the Brighton to Cambridge route. Rebuilding passengers' trust is vital. To do this, the improved performance we have seen recently must be sustained over the long term.
It is right that passengers received compensation for the inconvenience that the timetable disruption caused last year. Nearly £18m was paid in special compensation following approximately 75,000 claims. This is in addition to GTR's normal Delay Repay compensation which is available for any delay of 15 minutes or longer.
GTR is now putting £15m into a fund to provide tangible improvements for passengers affected by the disruption. Passengers will be able to decide for themselves what improvements are delivered by the fund – this could range from new waiting shelters or additional lighting to new information screens. Today, I am writing to you to kick off this engagement programme and to let you know how you, and your constituents, will be able to get involved.
The Secretary of State nominated Bim Afolami, Henry Smith and Heidi Allen, as MPs representing different parts of the GTR network, to work with GTR and develop a plan for how the fund is being allocated and consulted on. An engagement exercise will take place with MPs, user groups, passenger representatives (including London TravelWatch and Transport Focus) and GTR's Passenger Panel to determine what improvements this programme will fund. Passengers who are interested in taking part can sign up for the Passenger Panel online through the GTR website. [1]
The fund is being split so that all stations managed by GTR and all stations served by Thameslink services receive an allocation. This split will be made according to the tiers of the special compensation scheme, with stations most affected by the disruption receiving the most money. 
The fund will deliver improvements for passengers in the remaining years of this franchise, above and beyond what is already planned. Decisions about how the fund should be spent will be taken by passengers, so we would be grateful if you could encourage your local user groups and passenger representatives to contribute.
My team will be in touch with your office next week to provide more detailed information, including how people can get involved in the engagement process, the allocation of funds for stations in your constituency and the sort of initiatives that could be taken forward.
Yours sincerely,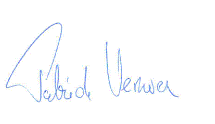 Patrick Verwer
Chief Executive Officer 
[1] GTR Passenger Panel -  https://passengerpanel.gtrailway.com/